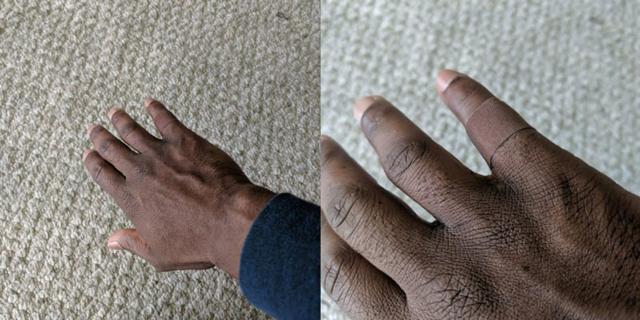 On Friday, Dominique Apollon, who's the vice president of research for a racial justice nonprofit, shared a photo of the color of his bandage blending in with his skin. He said he was surprised at how emotive he became over it. "For real I'm holding back tears," he tweeted.
Dominique Apollon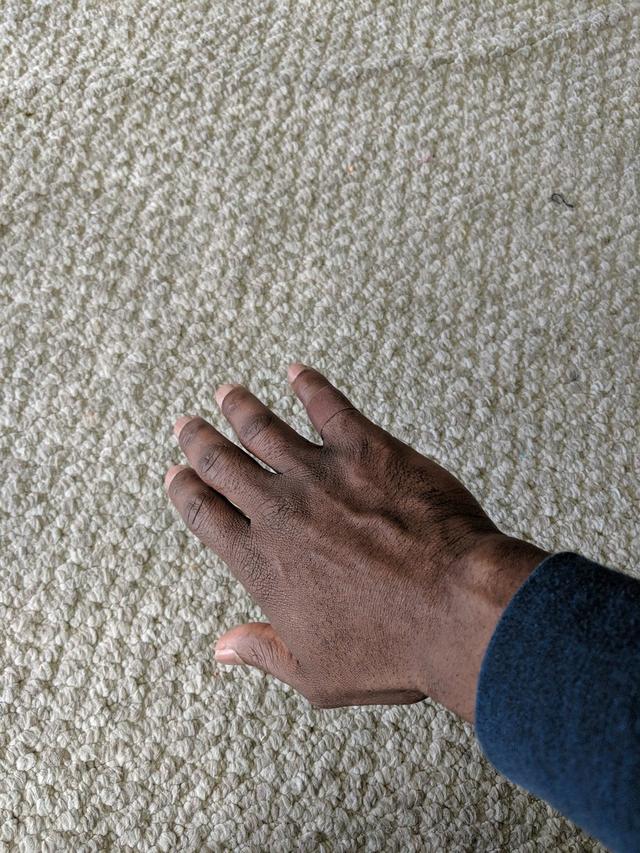 It's taken me 45 trips around the sun, but for the first time in my life I know what it feels like to have a "band-aid" in my own skin tone. You can barely even spot it in the first image. For real I'm holding back tears.
"This felt like belonging. Like feeling valued," he wrote in a follow-up tweet. "Sadness for my younger self and millions of kids of color, esp black kids. Like a reminder of countless spaces where my skin is still not welcomed. Feared. Hated. Like, 'Why am I really thinking all this 'bout an effing band-aid?'" (Apollon did not immediately respond to the Daily Dot.)
Many people of color shared similar feelings and stories, like realizing the crayon color "flesh" did not represent their skin tone.
DCaspThis was one of the first things that made me aware of "race" when I was a kid. I remember asking my mom about the bandaid color...Also the "flesh" crayon.

Boozy Brown GirlOh, man. The "flesh" crayon confused me so much when I was a kid, & my mom tried her best to help me find the crayon that matched me the best, but I remember being upset that nothing really worked.

Panda CannonThe fact that you called the others "normal ones" show just how valid this is. It's amazing to feel like a product was made with us in mind for once!
And some non-Black people pointed out that they never even thought about Band-Aid color as a race or colorism issue, but this tweet opened their eyes.
Sara Kirby I never realized that band-aids were even supposed to blend in to your skin or that people cared if the band-aid did or didn't show. I've always just bought the cool ones with the cartoons.... #26YearOldChild I'm honestly glad I know now!
Mark Casadei I can't begin to tell you how amazing that is. Yet so simple and going why in the hell did it take this long to do something so simple that means so much to people. I'm stocking these in my house for my neighbors and friends that come over if they should ever need one!
VI am sorry for never even noticing this was a thing. That's how ignorant we are. Thank you for taking time to show us this. You shouldn't have to teach us about our own privilege. We will do better.

Violet ByrneListening to @lingerie_addict discuss "nudes" in the underwear industry for years has been key for me. It *still* took me putting a bandage on in front of my kid and explaining to him why it was "skin colored" to wake up re: darker skin tones and bandages. #whiteprivilege
Man Glaubt Es Nicht!I never even thought about that. Oh my, I'm sorry. Thank you for bringing the issue to my attention.
Kate DrakeI didn't know they were supposed to match your skin tone. I'm stupid and super pale so they've never matched mine haha. This is awesome and so glad you got to experience it. Sometimes it's the little thing. This is super cool!
Since bandages are worn at a time of pain and healing, it hurts even further to feel a lack of belonging as you literally cover a wound. Which is what makes this tweet so poignant: It celebrates a Black person finally feeling recognized while creating an a-ha moment for white people who are still learning the effects of colorism. It even led to the rare productive, respectful Twitter thread.
Laura Spencer EdDSuch a powerful message in such a small item. Thank you for sharing with the twitterverse. Coincidently, my daughter was noticing how nylons also lack diversity of skin tone. We have a long way to go!
Dominique ApollonNot like I didn't know these strips existed. But I definitely didn't expect the complex emotions that would swirl as I watched it just ... blend in. A seemingly trivial exercise I've repeated 1000x on my body with "regular" ones since childhood. Self-administered #antiblackness
While Apollon's tweet was a learning moment for some, many are taking it a step further by actually implementing it. A number of teachers said they want to teach it as a lesson in school.

Vote D!ONNE Renée On Election Day!Flesh coloured bandaids have been around for some time now as the original tweet indicates; the problem is that they're NOT readily available in all stores. Every person tweeting in this thread about their surprise can take action by requesting that your local retailer sell them.

Jenn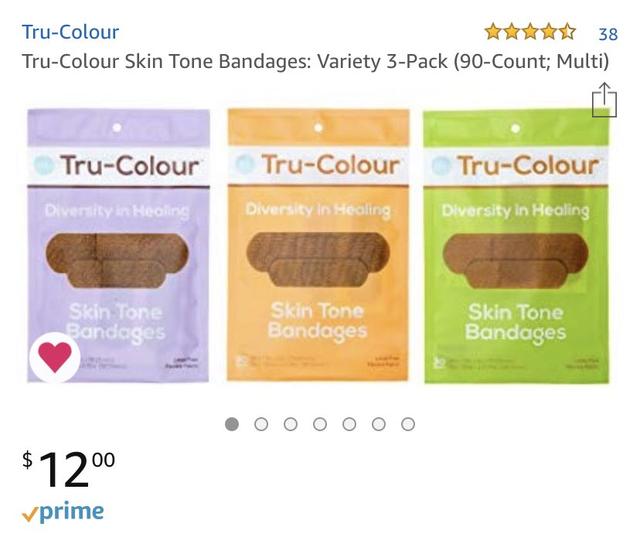 Future teacher here! Adding these to my list of essential classroom supplies!
Christa ChatfieldThis has inspired me to get some for my first aid kit at work!
Dominique ApollonNot gonna speak for all of us but there's a part of me that feels black people should get these for FREE. Workplaces should have them. Every hospital/clinic. Not sure I would've felt strongly if you'd asked me yesterday, though. So don't take it personal if no one says anything.
Michael Parker WestThank you for this. I work in a school and because of your tweet I just purchased a pack of TruColor bandages to have on hand. It's a small thing that might make a big difference to a child
The conversation on bandages for people of color, especially for the Black community, dates back to as early as 1969. In the late '90s, a man attempted to tap into this market, and even though he noticed a demand for it, his business was pretty much wiped out by stores that wouldn't promote his product properly, according to the Atlantic.
But hopefully that is changing. In the Twitter thread, Tru-Colour Bandages, a company that makes bandages in different skin tones, also chimed in. Tru-Color was started by a father who has mix-raced children and worried that they might struggle with moments of unbelonging.

Tru-Colour BandagesChoice matters
"There's something special about what a bandage does in terms of the connection between a parent and a child at the right moment in time where there's hurt, there's pain, and a grown-up can show up and provide care and love in the form of a bandage," Toby Meisenheimer, founder of Tru-Colour Bandages, told the Huffington Post in 2015.
"This is what people of color have to do in reverse," he said. "Their bandage choice is one that has to stand out. Why can't I stand out to show my support for identification for the fact that 'Hey, this is kind of messed up and it doesn't have to be'?"