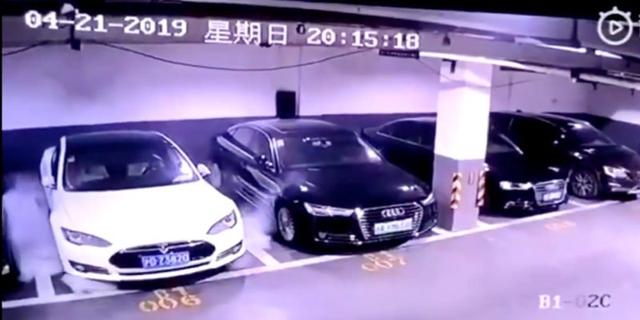 An electric vehicle from Tesla burst into flames in China on Sunday while inside a parking garage.
Footage of the incident, captured by a CCTV camera in an underground car park in Shanghai, shows smoke emanating from beneath the Tesla Model S before it's fully engulfed in fire.
Jay in ShanghaiGood or bad, negative or positive I will post anything about Tesla or EVs in China. This happened today in Shanghai, China 1st generation Tesla Model S caught Fire underground car park. #Tesla #TeslaChina #ModelS #Fire #China #Shanghai #特斯拉 #中国 $TSLA
The responding fire department stated on Chinese social media site Weibo that the flames destroyed the Tesla and two other vehicles parked next to it. A second video posted to Twitter shows the damage sustained by all three vehicles.
Jay in ShanghaiAftermath hopefully we will hear from Tesla what truly happened.
In a statement to the Daily Dot, Tesla confirmed that it was aware of the video and that an investigation was currently underway.
"We immediately sent a team onsite and we're supporting local authorities to establish the facts," a Tesla spokesperson said. "From what we know, no one was harmed."
According to Reuters, the video and a downgrade to the company's stock are likely responsible for a 4 percent drop in share value on Monday.
Whether the fire will have a significant effect on consumers in China remains to be seen, but previous incidents do not appear to have changed the company's sales or reputation.
While electric vehicles are reportedly much less likely to catch fire than gas-powered cars, incidents do occur. A Tesla Model X similarly burst into flames in Pittsburgh last week and burned for hours. That vehicle had been towed to an auto repair shop after initially catching fire in February.
READ MORE:
The post Parked Tesla Model S bursts into flames in shocking video appeared first on The Daily Dot.